Professionele vochtmeter voor het bepalen van het vochtgehalte van hout of van zachte bouwmaterialen.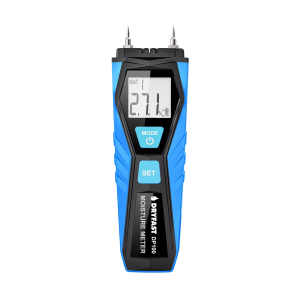 Dryfast, uw partner voor klimaat- en lekdetectie apparatuur!
Dryfast levert sinds 1995 apparatuur voor de bouw-, verhuur-, brand/waterschade en lekdetectiemarkt. In al die jaren hebben wij ons ontwikkeld tot marktleider in de Benelux op het gebied van bouwdrogers, mobiele verwarming, mobiele ontvochtigers, mobiele ventilatoren, meetapparatuur en lekdetectie apparatuur.
Sinds onze oprichting en tot op de dag van vandaag staat het bieden van service, kwaliteit, inzet en betrouwbaarheid bij ons centraal. Dit laten wij o.a. zien in het aanbod trainingen die wij aanbieden voor onze klanten.
Vanuit onze vestigingen in Vlaardingen (NL) en Pelt (BE) geven wij u graag persoonlijk advies over welk type apparaat het beste geschikt is voor uw toepassing. Om een voorbeeld te geven waarom dit van belang is; niet iedere ontvochtiger is een bouwdroger en soms is een bouwdroger niet de juiste ontvochtiger voor uw toepassing.
Verschillende capaciteiten bouwdrogers met de hoogte ontvochtigingscapaciteit en lange levensduur
Speciaal ontwikkeld voor de verhuurmarkt, snel en eenvoudig te installeren op vrijwel iedere locatie.
Breed assortiment ventilatoren in diverse capaciteiten en voor verschillende toepassingen beschikbaar.
Van speciale bouwkachels in verschillende capaciteiten tot werkplaatsverwarming in verschillende capaciteiten
Voer een postcode of plaats in en zoek een verkoop/verhuurpunt bij u in de buurt!